Military Appreciation Game – Illinois – Nov. 1
Oct 23, 2014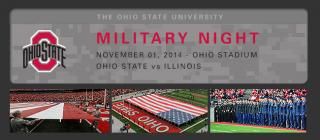 2014 Military Appreciation Game – November 1, 2014 – Join the alumni club at Ter-Tini's as we honor the brave men and women of the US armed forces. Through our partnership with the Lee Memorial Military Support Team we will be accepting donations during the Illinois football game.
HOW YOU CAN HELP?
Most of the men and women live out of their backpacks – so the items needed on a regular basis for our LOCAL troops currently deployed overseas include:
Wet wipes– travel sized, Unshelled Nuts, Deodorant – travel sized, White Socks
Anything to do with the feet (foot powder, foot cream, etc.), Bubble gum / hard candy, Toilet paper, Shaving cream, Throw-away razors, Meat in pouches: tuna, chicken, salami, beef jerky, pepperoni, Snack packs: fruit, pudding, cheese and crackers
We will be collecting the items above at the game watch partiy at Ter-Tini's.
We will also accept cash, and check donations.
For questions on the program or on how to donate directly call board member Sue Miles.